HackYeah is all about knowledge and skills – whether it is the knowledge that you share with your team or new things that you learn from others. And what's the best way to learn from others than participating in a conference? Get to know experts, talk to them directly, meet new people interested in the same things as you are. Learn and get inspired. This is what HackYeah Conference is for.
The Conference is a part of HackYeah experience, you do not need an extra ticket or to sign up previously. Just take a break from coding and join any session you want.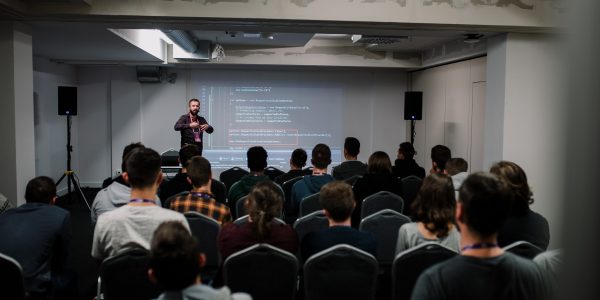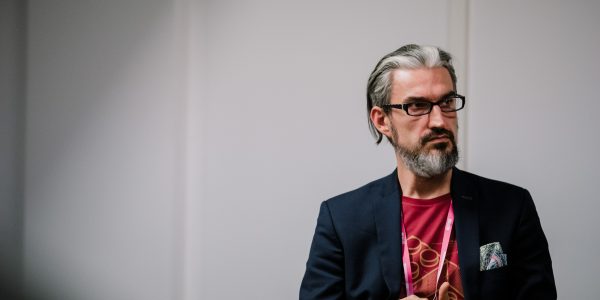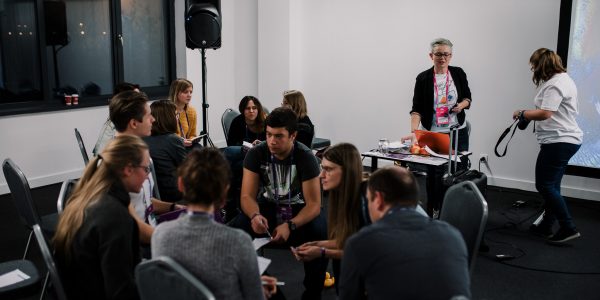 TRACK 1
14 September 2019
Purely Dysfunctional Data Structures [ENG]
14:30
Start-up funding – what can BGK do to help you?
17:15
Node.js streams 101 – czyli co warto wiedzieć o streamach nawet jeśli nie piszesz na co dzień w Node.js
19:05
Wykorzystanie stylometrii i uczenia maszynowego w informatyce śledczej do identyfikacji sprawców przestępstw
22:45
TRACK 2
14 September 2019
Crash course Python'a, czyli jak zamienić pomysł w kod [PL]
17:45
Chain of tools – how to be a lazy developer [PL]
By Lukasz Luczak,
18:40
The need for speed. What is GraalVM and how can it help you? [ENG]
By Maciej Przepiora,
21:40
TRACK 3
14 September 2019
Security of Public Cloud. A University example
15:25
Biznes i Sales w IT – czy podejście Agile też tu zadziała?
16:20
Jak efektywnie pracować w domu lub podczas podróży w modelu pracy zdalnej
By Maciej Mortek,
17:15
Journey through real time data distribution with Kafka pipelines [ENG]
By Konrad Szatan,
20:00
Make your customer happy with your project. Customer Experience design in practice [PL]
20:55
Make your life easier with Microsoft Office add-ins [ENG]
By Nikos Rzewucki,
21:50
Day of a Sales Engineer at a tech startup
22:45
8 hours
From 3 PM till 11 PM

WORKSHOPS
[13.30-15.30]
Dzień świstaka – czyli ile razy musisz zabłądzić, żeby dotrzeć do celu? -Business Factor
Wąskie gardła w projekcie?
Powtarzające się wciąż problemy?
Impas?
Polowanie na winnych lub ciche dni w zespole?
Jeśli znasz tę frustrującą spiralę, nie martw się! To dobry start do efektywnej i satysfakcjonującej pracy zespołowej.
Zapraszamy na warsztat, podczas którego poznasz proste sposoby na to:
– jak eliminować wąskie gardła przez stawianie trafnych pytań właściwym osobom?
– jak odkorkowywać frustrujące emocje?
– jak usprawniać pracę, udzielając i odbierając konstruktywną informację zwrotną?
[15.45-17.15]
Crash course Python'a – praktycznie- Justyna Kubisztal
Python jest świetnym językiem do napisania PoC aplikacji. Może też zautomatyzować wiele codziennych, żmudnych zadań. W czasie warsztatów zanurzymy ręce w kodzie i napiszemy kilka prostych skryptów ułatwiających powtarzalne zadania np. pobieranie kursu walut z internetu, uspójnienie listy uczestników i inne.
Nie jest wymagana żadna wiedza wstępna, ale skorzystasz więcej, jeśli weźmiesz również udział w wykładzie: "Crash course Python'a, czyli jak zamienić pomysł w kod".
[17.30-19.00]
Dekodujemy kreatywność, czyli ręce i głowa nie tylko od programowania. -Admind Branding & Communications
Słowo klucz: kreatywność. Drzemie w każdym z nas, gotowa skorzystać z każdej okazji, najchętniej z tej najbardziej niespodziewanej. Podczas warsztatu chcemy pobudzić kreatywność uczestników – a więc zaprosimy ich do aktywnego uczestnictwa.
[19.15-21.00]
How to build a perfect pitch? -Przemysław Stanisz
Dowiedz się, jak zbudować idealny pitch w mniej niż godzinę.
Dowiedz się o najbardziej optymalnej strukturze pitcha, Tworzenie historii i skryptu, aby poruszać się po prezentacji w bardziej naturalny sposób. Jak dodać warstwę wizualną (prezentacja PPT) A co najważniejsze, jak się zachować na scenie, aby Twój przekaz był dostarczany w bardzo mocny sposób 
[15:00-16:30]
Połącz kropki – czyli  co we wdrożeniu może pójść źle?  – Bank Gospodarstwa Krajowego
Pamiętacie taką zabawę z dzieciństwa: prowadzisz linię przez kolejno numerowane kropki, aż powstanie rysunek? W trakcie wdrożeń, w życiu zawodowym, też budujemy łącząc kropki: gdy jest ich za mało – nie mamy pewności jak poprowadzić linię dalej, gdy jest ich za dużo – trzeba odnaleźć te właściwe.  Zapraszamy Was na warsztat, podczas którego doświadczycie kilku realnych problemów wdrożeniowych podczas identyfikowania kluczowych interesariuszy i ich potrzeb, budowania wymagań, po rundę finałową, gdy łącząc kropki, wspólnie narysujecie obraz.
Po każdym etapie wspólnie podsumujemy co w naszym wdrożeniu się wydarzyło i jak na to reagować. Do zobaczenia!
OUR SPEAKERS
Adam Kostrzewa
Dyrektor ds. TMT i Innowacji - Bank Gospodarstwa Krajowego
Mateusz Andrzejewski
Ekspert ds. promocji funduszy europejskich - Bank Gospodarstwa Krajowego
Radosław Rojek
BGK - Bank Gospodarstwa Krajowego
Przemysław Stanisz
NorthStar Consulting i Hearty Foundation
Paweł Konior
Instytut Łączności-Państwowy Instytut Badawczy
Joanna Nowarska
Admind Branding & Communications
Dominika Fedko-Wójs
Admind Branding & Communications
Maja Mściwujewska
Admind Branding & Communications
Adrian Lewandowski
Business Factor
Dominik Przywara
BILLENNIUM
Maciej Korsan
EYEDEA / HACKLAG
Jan Zygmuntowski
Instrat Foundation
Dr Przemysław Chmielecki
TechBrain Applied IT&Science Consulting
Karolina Bolesta
Warsaw School of Economics
Michał Michalczuk
Spartez / infoShare Academy
Przemysław Błasiak
Estimote
Kamil Szymański
Pragmatic Coders
Sebastian Grodzicki
Elastic
Tomasz Zdzikot
Ministerstwo Obrony Narodowej
Wojciech Pilszak
e-Detektywi sp. z o.o.
Edward Szczypka
e-Detektywi sp. z o.o.
Iwo Konopek
Business Factor
Justyna Kubisztal
programeria.pl
The Call For Papers is officialy closed! Yet, if you have a topic you believe would be a so called golden egg and you think our attendees would wait in lines to listen to your talk then do not hesitate to contact Asia (joanna.dominik@hy2019.test) – our Conference Manager and tell her about your idea!
As a speaker you get:
A chance to speak in front of a wonderful audience
An opportunity to take part in the biggest stationary hackathon in Europe